"The group purports to seek revenge for what they term "trans genocide," a conspiracy theory that claims that transgender people are systemically targeted with violence. However, an examination of FBI statistics by the Daily Wire shows no proof to corroborate this claim…."
(Matt Margolis – PJ Media) On Monday, 28-year-old Audrey Elizabeth Hale, a biological woman who identified as transgender, murdered six people, including three children, at The Covenant School, a private Christian grade school in Tennessee.
This deadly attack was carried out the same week as a planned "Day of Vengeance" by transgender activists later this week.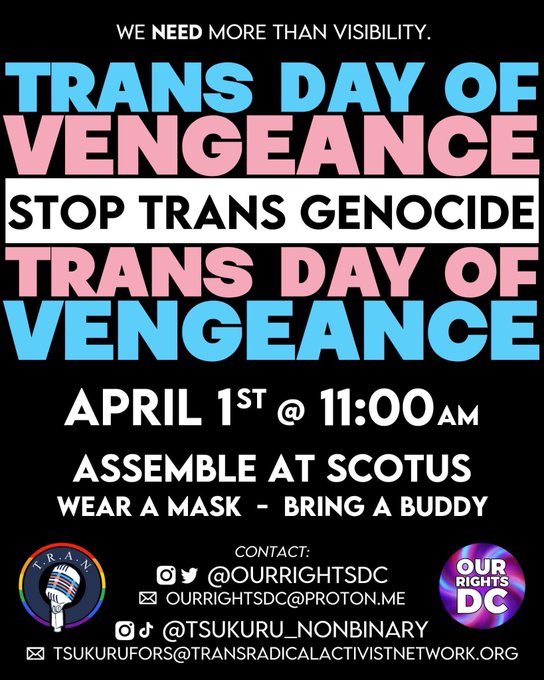 The website of the Trans Radical Activist Network (TRAN), declares, "Like the Stonewall Riots the gays and lesbians were experiencing what the trans community is facing now. This cycle of hate needs to end in fact it must. Allies, siblings we need you now more than ever. 'I was a radical revolutionist. I still am a revolutionist…I am glad I was in the Stonewall Riot. I remember when someone threw a Molotov cocktail, I thought, 'My god, the revolution is here. The revolution is finally here?' —Sylvia Rivera." View article →
Research: Homosexual – LGBTQ Agenda
Join Marsha West on Facebook and MeWe
The conservative voice and Christian content are being silenced more and more. CRN offers a lifeline to conservative people of faith who are disgusted with Facebook, Twitter and the MSM for failing to report, even blocking, important news stories that don't comport with the far left's narrative. We urge you to sign up to receive our FREE need to read articles. NO ADS!  NO VIDEOS! NO POPUPS!  JUST STRAIGHT NEWS.